We offer tailored services to guide our clients in every stage of a crisis.
In a crisis, no one can afford to make mistakes. Customers need to know the next steps, have access to the right tools, and have an experienced partner by their side. Our team of senior advisors are experts in handling challenging situations. We use the latest crisis management and communication tools and techniques, effectively preventing damage to your company.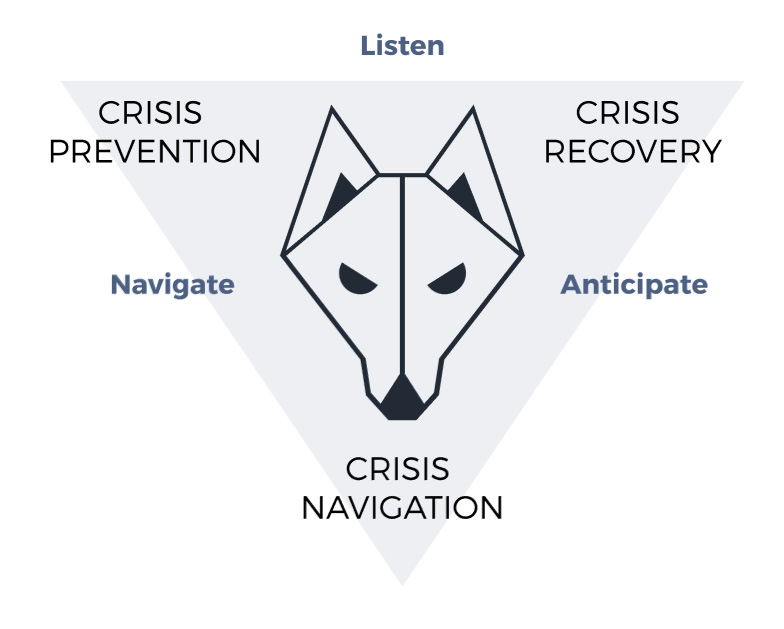 We identify weaknesses in existing processes and apply the processes of the crisis management system, personalizing the service in each case. At SLF, we help manage crises by dealing with accidents or product recalls, as well as media crises, demonstrations or criminal acts. Each year is evaluated and the potential for optimization for proper crisis management in the future is identified.
Crisis management is the ability of a company to recognize and act on the signs that anticipate a risk situation. Time is the scarcest resource that a company has in a crisis. When the crisis hits, organizations need the best expert advice in crisis management to avoid much greater damage.
At SLF we detect the signals, we do an internal and external analysis of the company's situation. We treat the crisis and minimize its effects as much as possible. We have the best crisis management specialists in the country with more than 25 years of experience in managing crises, emergencies and disasters.
Organizations are increasingly aware of the importance of having crisis management specialists by their side. That they know them thoroughly and that they are activated immediately at reasonable costs. Crisis basic fee is a crisis management insurance that serves to prevent an incident from becoming a crisis and affecting the business. SLF has different service packages designed to solve all kinds of needs 24/7. If you want to know more, please contact us.
Once the crisis is over, resumption of business programs should be applied in the new circumstances. This is one of the keys to recovering from a crisis.
Reputational recovery after a crisis consists of anticipating and having action plans for each of the scenarios that may arise after it. Having a good expert team that advises the company step by step is essential. At SLF we are specialists in carrying out reputational recovery work that quickly restores the damage caused by the crisis.
The key to recovering from a crisis is monitoring all those weakened activities that, if not managed correctly, can end up forming a new crisis. You have to be prepared and guarantee an agile and effective response to all stakeholders. At SLF we consolidate the progress made during the previous phases of crisis management and streamline processes to stimulate the recovery period.
Contact us for more personalized information.
Señor Lobo & Friends is a communication boutique specialized in crisis management, based in Madrid, in a unique position with a focus on all aspects of a crisis. SLF has the expertise of a large team of senior advisors available to clients, works with cutting-edge technology and communication tools to protect the business and reputation of its clients.
The failure of an airplane, a product in poor condition, the fall of the web in an online business … These situations are small crises that every company experiences. Communication and anticipation are key to preventing a crisis. Señor Lobo & Friends identifies the risks and needs of a company in the face of a crisis and tries to find the solution, whether immediate or long-term.
Monitoring is the evaluation that allows you to identify critical developments at an early stage and react before the actual crisis occurs. This is the first step for any business, as risks need to be recognized before one of them arises. At SLF we rely on extensive problem and stakeholder mapping, combined with real-time monitoring of the media and social media landscape. We recognize risks before they can damage your company's reputation.
The crisis audit consists of the review of strengths and weaknesses that a company has for the planning and management of a possible strategy, designing an internal and external audit of the entire company.
At SLF we know that you always have to be alert to certain business risks and organizations sometimes don't know how to handle them. For this reason, we anticipate risks by analyzing the company internally and externally, each weakness and strength, carrying out a complete risk audit in all types of organizations.
The crisis manual is a communication tool with key information for managing risk and conflict communication.
The company that anticipates its risks and has well-implemented crisis management procedures will reduce the damage that the crisis will leave on the organization when it arrives. It is a strategic tool that must be formed in normal times to be able to count on it when necessary.
At SLF we develop clear, effective and comprehensive crisis manuals, adapted to the current digital crisis management scenario.
Crisis drills are the most effective tool to check how prepared the members of the crisis committees are to face the most complex situations. The drills also serve to raise awareness within the organization, since most of the time you know that a crisis is going to take place, but you never know where or when it will happen.
At SLF we manage all kinds of crisis drills with an effective and multidimensional simulation program that puts the entire company to the test. Our team of experts pioneered drills on social media.
Spokesperson training optimally prepares company employees for emergencies in crisis situations. Good spokesperson preparation is crucial in crisis situations. No one should face an interview with the media without solid preparation, capable of facing hostile questions with due guarantees for the organization. At SLF, we design crisis exercises tailored to your company, simulating real crisis situations, identifying weaknesses in existing processes and practicing the appropriate crisis management system processes.
On many occasions, organizations face risks with a high potential for reputational damage. Today the need for a contingency plan is motivated by the risk posed by a pandemic. A contingency plan is made up of alternative procedures and instructions to the normal operating conditions of the company in crisis or emergency situations, thus allowing the operation of the company even if some of the activities are affected. At SLF we audit and establish the most appropriate contingency plan for your company once all possible risk scenarios and aggravating factors have been defined. Our procedures make it possible to establish solid reputational protection shields oriented towards the relationship with all stakeholders.
Contact us to schedule an appointment or for a personalized consultation.